Full Commercial and Residential Services From La Jolla Plumbing Experts

Our La Jolla, CA plumbing company offers a variety of commercial and residential services to assist our customers with their various plumbing needs. Services include:

Leak Detection
Hot Water Heater Repair and Replacement
Sewer and Water Line Service and Repair
Drain Cleaning and Repair
Copper Re piping
Kitchen and Bathroom Remodeling
Floor Drain Repair
Septic Tank Servicing and Repair
Plumbing Inspection
Pipe Repair and Replacement
---
Please note that we do not service lawn sprinkler systems. Please visit Chula Vista Sprinkler Repair instead.
---
Septic Tank Repair

Many California residents have septic tanks on their properties, and there are various issues that can occur. The best way to keep your septic tank running smoothly is by scheduling timely service calls. Our plumbers can come out to your location and inspect the tank to make sure it is functioning correctly. Signs of a septic tank that may be failing include a foul smell coming from the yard, spongy ground and plant growth near the tank, and indoor plumbing that is not working as it should. Your drains may be backing up, or you may be experiencing low water pressure. It is important to contact a plumber as soon as you start to notice these signs. Our La Jolla plumbing contractors will come out as quickly as possible and get your tank back in working order.
---
Renovation and New Build Installations

If you are planning a remodel of your home, you could be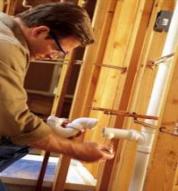 adding or updating an existing bathroom or kitchen. If you are adding a new bathroom, you may need assistance with the installation of toilets, showers, vanities and bathtubs. In updating your kitchen area, you may need assistance with installation of sinks, faucets, dishwashers and icemakers. There are specific guidelines that need to be followed when installing plumbing fixtures in order to ensure their smooth operation. Our professional plumbers can install these units quickly and efficiently, thus removing a good deal of stress from your remodeling project. You have the peace of mind to know that the job is done correctly, and meets all local building codes.
---
Complete Repiping Service

In homes with aging pipes, the risk of pipe bursting and breakage can be high. Our team of La Jolla plumbing experts can assist you with replacing your old pipes with new pipes made from strong and durable materials. A broken pipe can cause considerable flooding in a short amount of time, which in turn can cause major damage to a home. By replacing your pipes, you are taking a positive step in preventing a plumbing catastrophe. Our plumbers will be happy to complete a full inspection and advise on what can be done to replace your existing pipes.
---
Trenchless Sewer Repair
Most homeowners in La Jolla don't get excited about Trenchless sewer repair. They just want it done, and quickly, for as little as it takes to get the job done right. That's exactly how we do it. When you call us for Trenchless sewer repair in Ja Lolla, we'll work around your schedule, won't make a mess, and get it done in an afternoon. If you want hassle free sewer repair, you're in the right place.