Dependable Drain Cleaning in La Jolla
If you are experiencing a clogged drain, the first thing you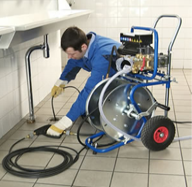 will notice is that the water does not drain as quickly as it should. As the blockage progresses, you may notice that the water in your tub or sink does not drain at all. Sometimes these blockages can be released with the use of a plunger, and there are also over the counter commercial products that can break them up. These commercial products can work well in some cases, but our La Jolla plumbing contractors remind you that it is important to follow the instructions correctly to avoid damaging your pipes. If the blockage cannot be removed with a commercial cleaner, you will want to contact a plumber for assistance.
---
Copper Repiping Services in La Jolla

Some homeowners have copper pipes and are looking to have them replaced with those made from newer materials, while other homeowners who currently have galvanized pipes are looking to install copper. The reason why some homeowners prefer copper pipes is that the material is lead free and is also extremely durable. When galvanized pipes start to erode, homeowners may notice that their water is yellow or rust colored, and that the water temperature will change when a toilet is flushed or a dishwasher is started. By replacing galvanized pipes with copper, homeowners can eliminate this problem. If you are interested in copper repiping services, our team of plumbers will be happy to assist you.
---
No Job Too Big Or Too Small
You can rely on our La Jolla plumbers for all of your residential or commercial plumbing needs. There is no job too big that we can't handle, and there are no small jobs in our business. We treat our customers with respect and offer dependable service. Contact your La Jolla, CA plumbers for your service needs, and we can guarantee a job well done.